,
,

,

,

,

,

,

,

,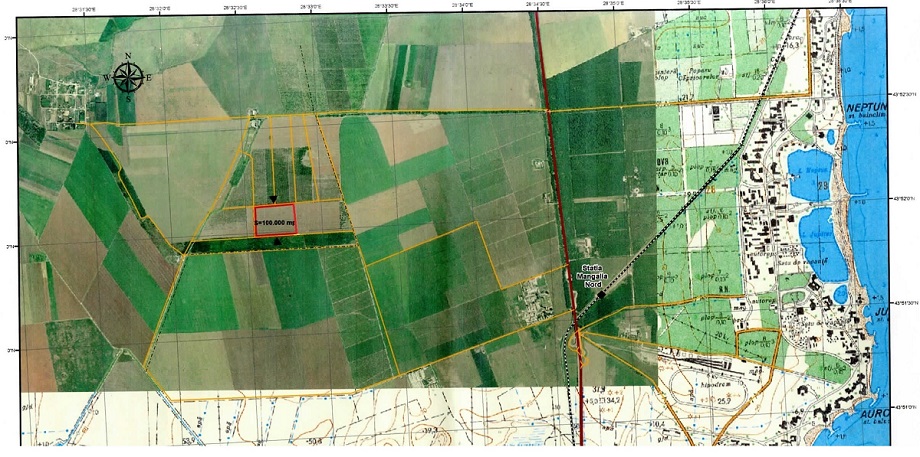 Proposal's Value (EUR): 400000
Proposal Description:
The land for sale is located in Constanta county, Pecineaga commune – Vanatori village, near the Black Sea coast. The surface of the land is 100,000 m2, it is located in the town and registered in the Land Book with the category yard-construction. The land is free of debts, without constructions, at present arable, having unique owner.
The optimal land use variants are:
Photovoltaic park

Industrial development (non-polluting)

Agri-business

For this location, a documentation was developed for the construction of a photovoltaic park with a capacity of 4.5 – 4.8 MW and all the permits, approvals and building permits were obtained. The investment was not made, and in case the buyer chooses the variant of photovoltaic park, it is necessary to partially update some opinions and the authorization.
Facilities:
Electricity on the ground

Water nearby

Easy access from the national road, through the road of exploitation

Easy access to: European road Constanta-Mangalia, Mangalia seaport, Constanta seaport, Mangalia station
The land is suitable for: photovoltaic park, warehouses, halls – logistics and agro-industry.
Sale price: 4 Euro / m2, negotiable
Other forms of collaboration are accepted in partnership with investors or potential users interested in developing activities in the area (partnership for real estate development, renting, etc.).
Parties interested in this business opportunity are invited to contact us by email at [email protected], by phone at +4021.266.56.77 or directly through the form.
The Interest:
Sell the Business
Sell Real Estate
Financial Details:

You need to be logged-in to see the financials and other important details (Previous Year Turnover, Year of Establishment, Number of Employees, available budget, package of shares available)
Assets:

You need to be logged-in to see the Assets & Liabilities related to this business proposal

Liabilities:
Last Update on: 29/11/19 by And… …
---
INTERESTED TO FIND OUT ALL DETAILS and COMMUNICATE YOUR INTEREST?
Register for Free in a minute and get in touch directly with the Listing Owner
OR, if you already have an account, please Log-in with your Username and Password in order to unlock all the Proposal's details and communicate your interest:
---
Propuneri si Parteneri de Afaceri potriviti Solicitarii de mai sus: