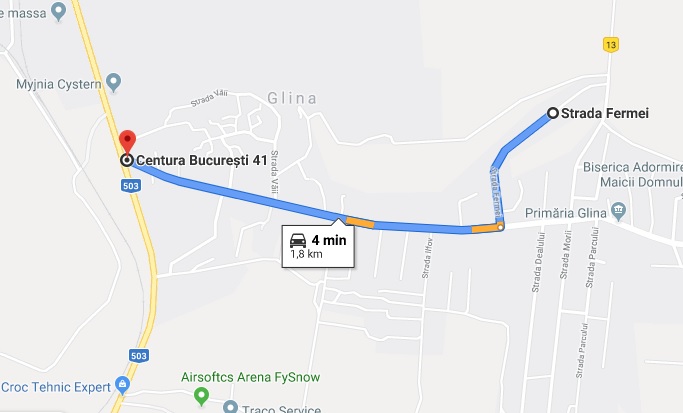 Proposal's Value (EUR): 380000
Proposal Description:
Investment opportunity! Former Glina vegetable farm 4 minutes from the Bucharest belt road.
Due to the fast access to the Bucharest belt and the Sun highway the land is suitable for many commercial activities: industrial platform, production halls, container storage, logistics, temporary housing for foreign workers, amusement park, agricultural farm but also residential complex.
Sincron Imobiliare proposes for sale a buildable plot of land with a total area of ​​20,401 square meters, in the village of Glina, Ilfov county, on Strada Fermei no. 8, 4 minutes from the Bucharest Belt.
It is the former Glina vegetable farm, it has double access on the concrete road, all utilities (sewerage, three-phase current, gas, water).
On the ground there are 2 halls with concrete platforms (approximately 4000 sqm), a renewable house and a boyar mansion.
Of the total area 18,524 square meters are in the category of use construction yards and 2,147 square meters in the road category.
The commission is 0% for the buyer!
For more information and views please contact us.
The Interest:
Sell Real Estate
Financial Details:

You need to be logged-in to see the financials and other important details (Previous Year Turnover, Year of Establishment, Number of Employees, available budget, package of shares available)
Assets:

You need to be logged-in to see the Assets & Liabilities related to this business proposal

Liabilities:
Last Update on: 28/08/19 by cos… ...
---
INTERESTED TO FIND OUT ALL DETAILS & COMMUNICATE YOUR INTEREST?
Register for Free in a minute and get in touch directly with the Listing Owner
OR, if you already have an account, please Log-in with your Username and Password in order to unlock all the Proposal's details and communicate your interest:
Imagine
Propunere

Actiune

51ha Logistic & Industrial REAL ESTATE for sale/ Sibiu, Romania


Zona Industriala Ocna Sibiului (ZIOS) offers a unique opportunity for local and foreign investors looking for an accessible and dynamic location with excellent infrastructure for a competitive pric…

ZIOS

Turnkey business for sale, that brings revenue from day one !!! Brasov, Drumul Poienii area


EXCLUSIVE REPRESENTATION, BUYER COMMISSION 0%

After leaving behind the White Tower and the memories of the good knights, the city signs o…

Adria…

I have 2 projects, both big, and I want to sell them


I have 2 projects for sale. 1 is a land of 12,000 square meters with a project of 9 block…

Tanas…

Guest house, restaurant and land for sale in Valea Prahovei Breaza


The guest house is located in the center of Breaza, Prahova county, in the area with the cleanest air in the country. In this locality no indust…

ar.ga…

Land for sale in the neighboring areas of Bucharest


Crevedia - Periş 6,700 sqm 13,543 sqm + 5,000 sqm Butimanu 9,000 mp2 Glina - Post Office 27,500 sqm 36,500 sqm 70,000 s…

marce…
Recommended Business Matches