Date/Time
Date(s) - 09/11/2017
9:30 am - 4:30 pm
Location
Sheraton Bucharest Hotel
Categories
Business Diplomacy Conference 2017
Many businessmen simply characterize these days, by saying: "We live in a Crazy World but the good times will come back".
Diplomats would state that "We live in the V.U.C.A. World, and this is the new normality that everyone should learn how to live with".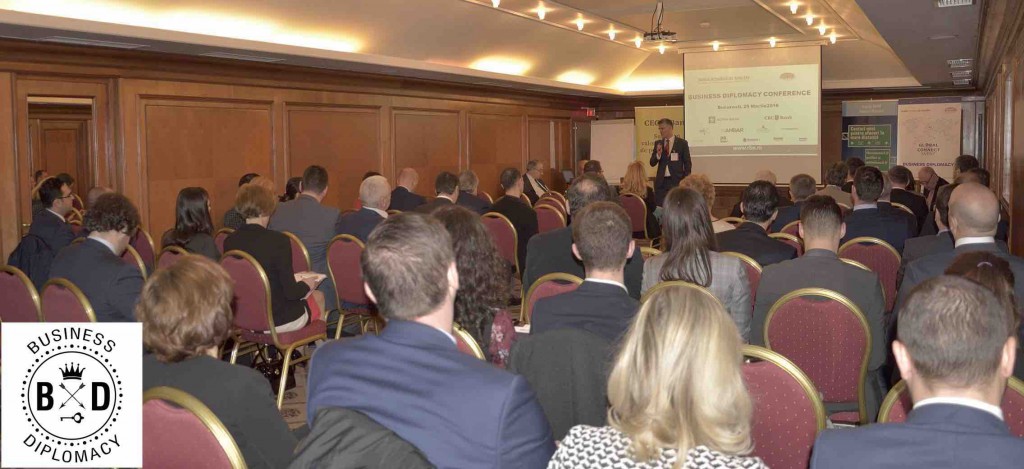 The Romanian Business Exchange in partnership with the Centre for Applied Strategies will organize on the 9th of November 2017 in Bucharest – ROMANIA, the second edition of the Business Diplomacy Conference
9:00 – 9:45 — Registration & Welcome Coffee
9:45 — Opening speech – Introduction on Business Diplomacy. Why the business people need to access diplomatic competences when going international, opening new markets and developing global business partnerships.
Ilan Harry LAUFER  – Minister of Business Environment, Trade and Entrepreneurship: The role of Romanian Economic Counselors abroad, in attracting foreign investments and internationalization of Romanian companies;
Gabriela CIOT – State Secretary: Ministry of Foreign Affairs
Shaun RIORDAN – British Career Diplomat: BREXIT – Challenges and Opportunities for Romanian companies;
Costin GEORGESCU – Career Ambassador, Director SRI 1997-2000: The Influence of geo-political changes on business environment;
Sjaak PAPPE – Hofstede Insights, The Netherlands office: Culture eats Strategy for Breakfast!
Stefan GLAVAN – Career Ambassador: Economic Diplomacy in the globalization era and the relationship between diplomats and business people;
11:35 – 11:50 — Coffee Break
Milan PEPRNIK – Minister Counselor – Czech Embassy in Bucharest: Diplomatic methods and techniques recommended to business people;
Ayman Aly Osman Hassan – Minister Plenipotentiary Commercial – Embassy of the Arab Republic of Egypt: Synergies between Diplomacy and Business;
Ionut RITES – Head of Classified Documents, Chamber of Deputies: Cyber security and data protection for diplomats and businessmen;
Nineta BARBULESCU – Ambassador Extraordinary and Plenipotentiary of ROMANIA to Australia and New Zealand
13:00-13:45 — Lunch Break
Stefan POPESCU – former State Secretary MAE: The new dynamics of international relations from a diplomatic and business perspective;
Liviu DANILA – Gl.bg(r) Head of Special Emergency Situations of MAE: Crisis negotiations – diplomatic strategies to deal with tough situations;
Colin LOVERING – Chairman at British Romanian Chamber of Commerce (BRCC) & Senior Vice President – Avison Young :  Business, Cultural and Political Diplomacy in Real Estate;
Dante STEIN – Founder AUTO-ITALIA and RE-START ROMANIA: Business Situations resolved through Diplomatic methods;
Mihai MARCOCI – President of the Strategic Management and Lobby Association: Diplomatic Negotiations techniques that can be assimilated by business people;
15:05-15:15 —  Coffee Break
Sarmiza ANDRONIC – Profiling. Non-verbal and paraverbal communication;
George LUPASCU PRUNA – Hofstede Insights/ Ukraina's office: The impact of Culture on International Business;
Dorel CAPRAR – President of the Committee for Defence, Public Order and National Security – Chamber of Deputies: Strategic Networking
Gheorghe DINICA – Career Ambassador: Diplomatic Protocol and Etiquette;
16:45 — Valentin PREDA – CEO The Romanian Business Exchange: Conclusions & Brief Presentation of the future Training Program on Business Diplomacy

20 SPEAKERS
International experts, Diplomats & International Businessmen
PARTICIPANTS
Officials, Ambassadors, business people and international business organization's representatives.
Business Diplomacy Conference 2017 Bucharest ROMANIA Sheraton Hotel
The CONTEXT
In the V.U.C.A. World (characterized by Volatility, Uncertainty, Complexity and Ambiguity), business executives cannot focus only on the financial results.
The theory that successful International Business is just a matter of a new business idea and good management is naive and outdated.
In the 21st century business leaders shall exercise diplomatic competences in order to survive and grow further even in their own globally-networked business environments.
DIPLOMACY ≡ BUSINESS
Few of the Diplomatic resources that could be useful for a Businessman:
• Reputation and trust factor;
• High level of contacts;
• Intelligence and pure market information centralized for a historical period;
• Communication channels and promotion tools.
"Diplomacy means Business"
Diplomacy should be a way of being for Business leaders.
International Business people shall learn new competences from the Diplomats:
Understanding the international systems;
• Developing networks of influence;
• Cultivate and maintain relationships with international key people; and the list can continue …
MAIN PARTNERS


SUPPORTED BY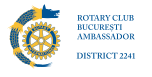 MEDIA PARTNERS
Ziare.com, News24, Femei In Afaceri, PRbox, Manager Express, Business24, Financiarul.ro, DeBizz, Intervio si Canal33
Book your place to the Business Diplomacy Conference 2017 to find out how the diplomacy can be your way of being and how that can help you.
Bookings
Bookings are closed for this event.