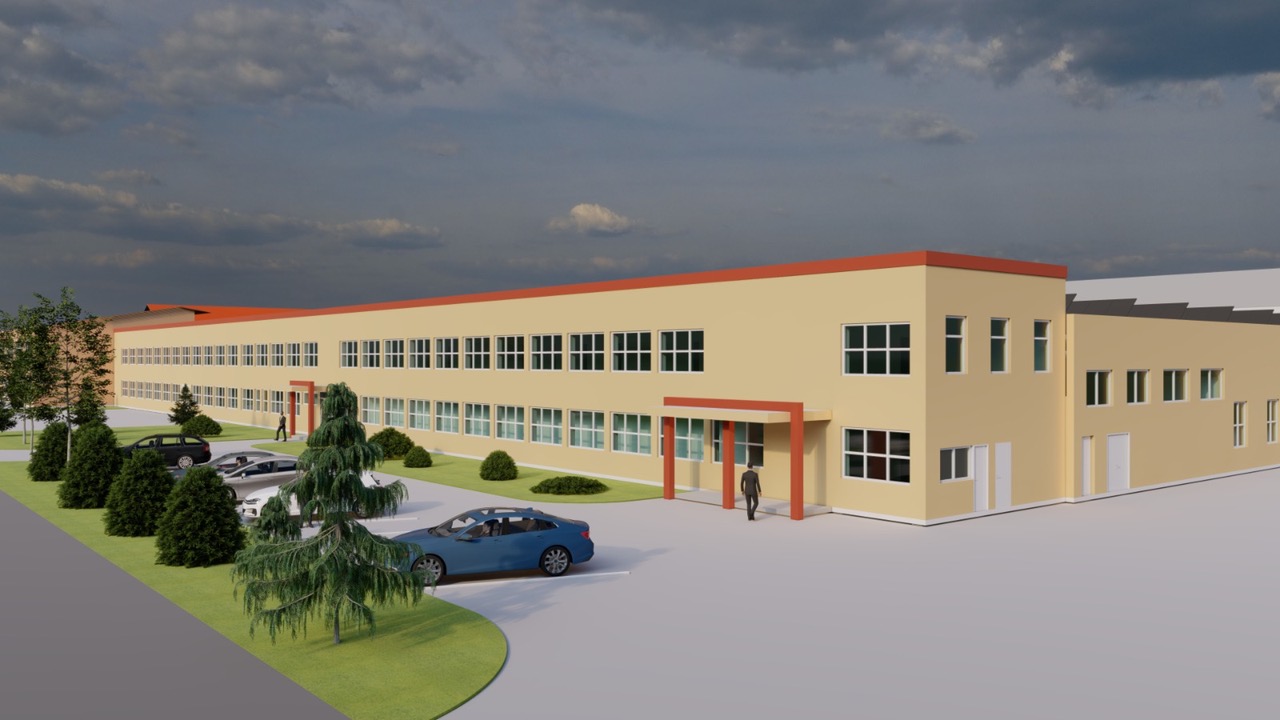 Proposal's Value (EUR): 6900000
Proposal Description:
The property is located in the center of Romania, in a city with 42,000 inhabitants (including nearby villages).
Just 6 km from the city, the A8 East-West highway is under construction, which will connect Cluj-Napoca and Iași.
Completion of this stretch of highway is planned for 2024-25.
The real estate property is located on a plot of land with an area of 28,804 square meters.
It is located in an area with complete infrastructure.
On the asphalted land, there are: a building with an area of 13,388 m2 and several smaller buildings.
The accessible entrance from the main road leads to the office building, which is directly connected to the main building.
The office building has 786 square meters on two levels, so a total of 1,572 square meters.
Usable area of the main building: 13,388 sqm, which is divided into 17 spaces.
Among the existing buildings in the back part of the land, the hall with the surface of 1338 m.p., located at the end of the lot, is usable.
The built-up area is currently 17,771 m2, out of a total of 28,804 m.p., which means a land occupancy percentage of 62%.
The property is located in an industrial area, so the possibility of building new constructions is not limited.
There is a water tower on the north side of the property that supplies water to the mobile textile mill that operates in the main building.
The storage/storage capacity of the water tower is 200 m3
Water is pumped into the water tower, from its own (authorized) well, with the help of a pump.
Wastewater and rainwater are fed into the city's sewage system, based on authorization and contract.
Two photovoltaic electrical systems operate on the roof of the building, one with a capacity of 50 kWh and the other with a capacity of 88 kWh.
Both PV systems were commissioned in January 2023.
Potential
A factory with 40 employees currently operates on the property, but it does not capitalize on the property's potential (it uses approximately 20% of its surface).
Business opportunities:
Logistics center
Any manufacturing plant
The office building can be used in its current state, without renovations, or, as the case may be, with minimal improvements.
The Interest:
Sell Real Estate
Financial Details:

You need to be logged-in to see the financials and other important details (Previous Year Turnover, Year of Establishment, Number of Employees, available budget, package of shares available)
Assets:

You need to be logged-in to see the Assets & Liabilities related to this business proposal

Liabilities:
Listing ID: 66003
Listing date: 18 August 2023
Updated on: 25 September 2023 by Edi… …
---
ARE YOU INTERESTED TO FIND OUT MORE DETAILS AND GET IN CONTACT WITH THE LISTING OWNER?
Quickly create your free account:
or, if you already have an account, log-in with your username and password:
---
SIMILAR
BUSINESS OPPORTUNITIES