DATA: 25 October 2016 – 25 October 2016
TARA/ORAS: /
business relationship
Taiwan External Trade Development Council (TAITRA) and Taiwan Trade Center Bucharest, organize on October 25, 2016, a bilateral business meeting Romano – Taiwanese, occasioned by Taiwan's Commercial Mission in Bucharest.
Participation is FREE of Charge!
Taiwanese business delegation, comprising of 18 companies having as main objective the development of business relationship with potential partners and explore business opportunities Romanian market in Romania.
The main products and areas of interest are: auto parts, trucks, lighting LED, valves, gaskets, radiators Auto products Fitness & Wellness, Toys PVC, CNC machines, water purifiers, plastic products and recycled wood for exterior sources of current PC, TV, medical and industrial adapters, UPS, inverter PV, portable batteries, Yale, hinges for glass doors, handles, equipment / instruments for testing and training in various fields, alarms, sirens, alarms medical car alarms, business relationship, smoke detectors, kitchen products, Cables and wires, accessories for networking and communications, fiber optic cables and accessories, welding machines fiber, plastic products, rubber and aluminum molds, fasteners, equipment security bicycles, business relationship, parts and accessories, molds for the plastics industry, OEM products, fibers and yarns for textile pieces of high precision and molds for the optical industry: optical sensors, sensors infrared detectors, thermal goggles night sight vision products molded / extruded aluminum, machined parts, equipment fasteners, machinery degreasing.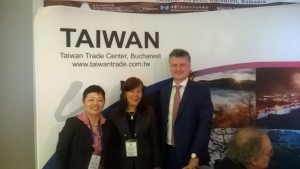 Below are few of the Taiwanese participant companies and their business interest in Romania:
| | | |
| --- | --- | --- |
| Taiwanese company | Website | Products |
| AKITA TRADING CO., LTD | www.facebook.com/akitaspareparts | Various auto parts, trucks, pistons, valves, gaskets, automotive LED lighting, filter, locks, connectors, compressor. |
| AMBITION WORLDWIDE CO. | www.foreverfit.com.tw | Produse fitness & wellness |
| BE ENTERPRISE CO., LTD. | www.bebox.com.tw | Toys PVC, Puzzle 3D EVA |
| D&B BINARY INDUSTRIAL CO., LTD. | www.dbbcnc.com.tw | CNC equipment, water purifiers, auto parts |
| DOOZER CO. LTD | www.doozer.com.tw | Plastic and recycled wood products such as flooring for outdoor decking, railings, Promenade, Pergola, Gard |
| FSP TECHNOLOGY INC. | www.fsp-group.com.tw | Moulded PC, TV, medical and industrial adapters, UPS, power supplies, starter, power bank, / portable batteries, inverters for photovoltaic, LED lighting products |
Romanian companies interested in participating in this business relationship meeting can register online free of charge via the form below.
---
---
VEZI MAI MULTE EVENIMENTE