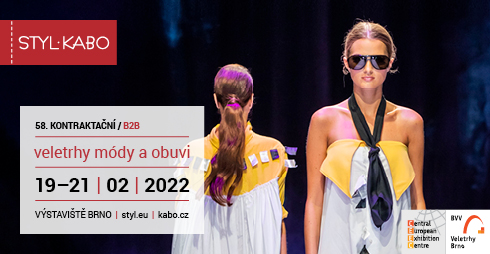 DATA: 22 February 2020 – 24 February 2020
TARA/ORAS: Czech /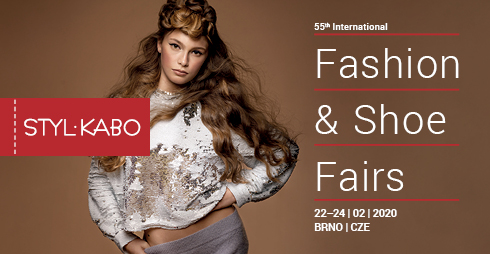 STYL&KABO International Fashion and Footwear Trade Fairs will take place between 20 – 22 August 2022 in Brno, Czech Republic.
STYL&KABO is the place which offers exhibitors a unique opportunity to present their new collections in the attractive and exclusive environment of its modern halls. The fashion fairs, which take place twice a year in February and August, preserve their contractual intentions as a meeting place for professionals and traders from the textile, clothing and leather industries.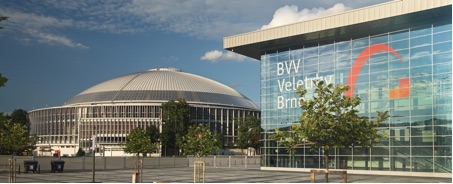 STYL Fashion Fair is the business and commercial peak of the fashion industry. It is where exhibitors from all over Europe offer and present new brands, novelties and fashion trends in clothing from each field to professionals. Alongside classic fashion there are also collections from established Czech and European fashion designers as well as the up and coming generation of fashion designers. Traders can view the collections in the form of quality fashion shows within the scope of the rich accompanying programme. A section of the STYL fair is also dedicated to a selection of costume jewellery and accessories.
STYL Products Specification :
CLASSICS (womenswear, menswear, incl. plus size , knitwear, leather and fur wear)
CASUAL (young fashion, denim fashion, sportswear)
BABY (childrens ́wear)
LINGERIE-BEACHWEAR
ACCESSORIES-BIJOUX
HOME TEXTILES
FABRICS-COMPONENTS
OTHERS
---
KABO Footwear and Leatherweare Fair is the most prestigious professional show of the products of Czech and foreign footwear manufacturers within the Czech and Slovak Republics. Most of the global brands will present themselves, through their domestic distributors, along with footwear and accessory manufacturers.
KABO Products Specification :
Shoes
ACCESSORIES(bags, suitcases, belts, gloves)
MATERIALS, COMPONENTS (Natural leathers, materials other, shoemaker's and fancy components and parts)
EQUIPMENT ( Equipment of stores, literature, services, institutions )
---
Why should you exhibit at STYL and KABO International Fashion and Footwear Trade Fairs ?
Presentation of the whole textile, clothing and footwear industry – the only one in the Czech Republic, Slovakia and the biggest in Central/Eastern Europe
Since 1993, they are the largest international B2B fashion fair in Central/Eastern Europe ► long-established trade fair and well-known brands
The fair is attended by 70-80 % of all the specialists in the Czech Republic's textile and clothing sector
Perfect venue for small and medium companies which want to promote their brands, launch new products, make new contacts and get in touch with distributors
32% foreign B2B attendees (Poland, Slovakia, Hungary, Austria, Slovenia, Croatia)
The event is widely monitored and reported by specialized industry media, giving an excellent opportunity to get noticed by prominent business partners
We expect the trade fair to be visited by up to 5,000 professionals from the Czech Republic and Central Europe who visit the fairs regularly with the only goal – to make new deals and contacts.
Who are the visitors of STYL and KABO?
Distributors looking for new collections;
Business owners and managers looking for interesting goods for their stores;
Multibrand-store agents;
Shopping mall agents, retail-chain agents;
Representatives of fashion industry associations;
Fashion designers looking for inspiration or searching for manufacturers of their products.
Here you can find all the organizational detailsSTYL&KABO 2020
For more information about the participation at the Brno trade fairs, feel free to contact us through email at [email protected] or by phone at +4021.266.56.77
The Romanian Business Exchange is the official representative of BVV Trade Fairs Brno – Czech Republic, for the Romanian market!
---
---
VEZI MAI MULTE EVENIMENTE