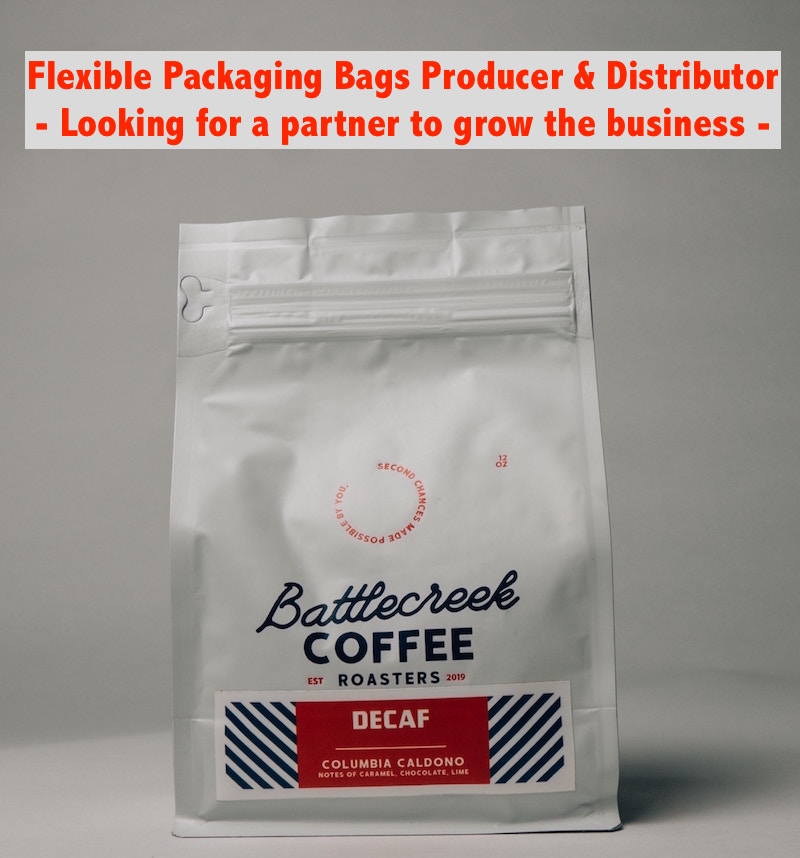 Proposal Description:
The owner of the flexible packaging company is looking for a partner / investor to assure the growth of the existing business that consists of producing and distribution of flexible packaging bags.
Sale a minority as well as a majority shares package, capital rise or a combination of them, are all acceptable options.
In case of desire for acquiring 100% of business, the owner is also be open to receive proposals.
Profile
The company is a Limited Liability Company (SRL), set-up in 2010 year – as a producer of flexible packaging like coffe bags, stand-up pouches with zipper, diffrent materials, printed or unprinted. It is owned and managed by the family – wife and husband.
The business started in 2010 by selling multilayer bags, because market request that sort of packaging for their small volume and visibility on the hypermarket shelf.
In 2012 it was bought a machinery to produce stand-up pouches with zipper. In 2018 it was bought second machinery for coffee bags, to increase productivity and product range.
Turnover is expected 0,5 mil EUR by the end of 2019 on an incresing trend and a favorable context for growth.
With a portfolio of about 700 clients, out of total Sales 67% are Standard orders.
Coffee roastery with 30% of sales and food packing with 30% are the main destinations of Company's own products. Pharma industry comes up with 10%, cosmetic industry with 5% and other cosumers 5%.
Sale of diffrent materials and accessories counts about 20% of total sales.
Direct sales is practiced.
Online sales is active and very well organized – company has 4 dedicated web domains.
Production is organized in a rented facility situated in industrial area of Bucharest, ROMANIA – about 500sqm production hall, concrete platform with big trucks access, gas, water and 95kw power. Area is 24/24 h secured.
Production is sustained by 3pcx machinery forming bags at temperature sealing, 3 pcx. applier degasing valve, 2 pcx air compressor, 2 Forklifts, 3 auto
Transaction rationals:
• Trustful national company, well-known in the flexible packaging market
• High growth potential
• Big and faithfully portfolios of clients (790 clients).
• Wide range of processing industry fields
• Qualified and stable staff
• Small cost with production and employers
• Free of debts.
Interested parties are invited to communicate their interest through the next form, or get in contact with us at [email protected] , +4021.266.56.77
The Interest:
Vanzare Afacere
Strategic Partnership : , ,
Cooperation in Production
Financial Details:

You need to be logged-in to see the financials and other important details (Previous Year Turnover, Year of Establishment, Number of Employees, available budget, package of shares available)
Assets:

You need to be logged-in to see the Assets & Liabilities related to this business proposal

Liabilities:

You need to be logged-in to see the Business Proposal Presentations and Videos
Listing ID: 36728
Listing date: 10 December 2019
Updated on: 10 January 2020 by Val… …
---
ARE YOU INTERESTED TO FIND OUT MORE DETAILS AND GET IN CONTACT WITH THE LISTING OWNER?
Quickly create your free account:
or, if you already have an account, log-in with your username and password:
---
SIMILAR
BUSINESS OPPORTUNITIES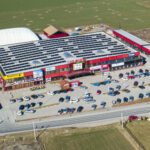 Proprietatea este situată lângă drumul principal E578 de la Gheorgheni spre Toplița, în imediata apropiere a două zo…
The company was establish…
The owner of this fashion company is looking for a business partner / investor for the development and diversification of the business. The company…
The value of the investment necessary to restart the factory on the main object of existing activity, respectively the production of alcohol from c…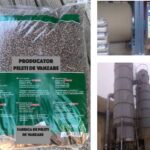 The pellet factory for sale has been operating since 2015 in a rented space consisting of 4 production halls, where the two production lines are lo…