The Romanian Business Exchange provide Internationalisation services for Companies looking to go global.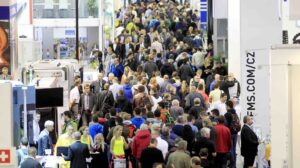 Trade Fairs in Czech Republic in 2021
The support services that the Romanian Business Exchange offers for the internationalization of Romanian companies: Identifying the most suitable international fairs and exhibitions organized abroad in which you can participate with your own stand with a subsidy from the state budget.
We are in constant contact with many organizers of international fairs and exhibitions and we can get you the best offers in a timely manner; Organizing individual economic missions abroad. We know the international events during which it is worth traveling abroad to meet suitable business partners for your company and / or to promote your products / services globally; Creating the visual identity of your company: logo / logo, trademark registration, slogan or other elements of visual identity in relation to the specifics of the company; Creating the company's website / website and / or application for mobile devices, in order to present the activity and the products / services, both in Romanian and in any other international language you want depending on the foreign market you want. you want to access it. SEO oppression of the site and its promotion through google, facebook, linkedin and other own channels developed by the Romanian Business Exchange at international level; Organizing training courses in the country and / or abroad in the field of techniques for promoting products / services on new foreign markets. We have experience in organizing trade fairs and economic missions abroad, as well as in facilitating international business contacts and we can organize specialized trainings to help you effectively promote your company's products and services in various areas of interest.
Carrying out analyzes and studies of the foreign market according to the targeted areas and sectors of interest; Any other types of activities to promote and support the internationalization of your company such as: promoting the company in the international RBE Connect catalog, listing and promoting your business opportunities, foreign market information, identifying international business partners (buyers of your products / services, suppliers or investors / strategic or financial partners). If you have questions about our services or do not know which foreign markets best suit your company, you can contact us and set up a meeting to know by phone +4021 266 56 77, at [email protected] or through the below contact form.